Donor retention is one of the most prevalent challenges for nonprofits. This is especially true during times of unique financial obstacles and unexpected events, such as the pandemic. However, Forbes has reported that the outlook for charitable giving in 2022 remains more promising than you might expect. The key to this is to keep your donors feeling appreciated, engaged with your mission, and optimistic about the difference they can make. So, how can you accomplish this? 
We've compiled a list of seven successful ways to retain donors and keep them engaged. 
Thank Donors Properly 

Continue to Share Impact Stories 

Offer Donor Accounts

Give Supporters a Platform to Speak 

Re-engage Donors with Events 

Invest in Donor Management Software 

Strengthen Your Online Presence 
Let's dig into how these effective ways can keep your supporters involved with your mission:
1. Thank donors properly.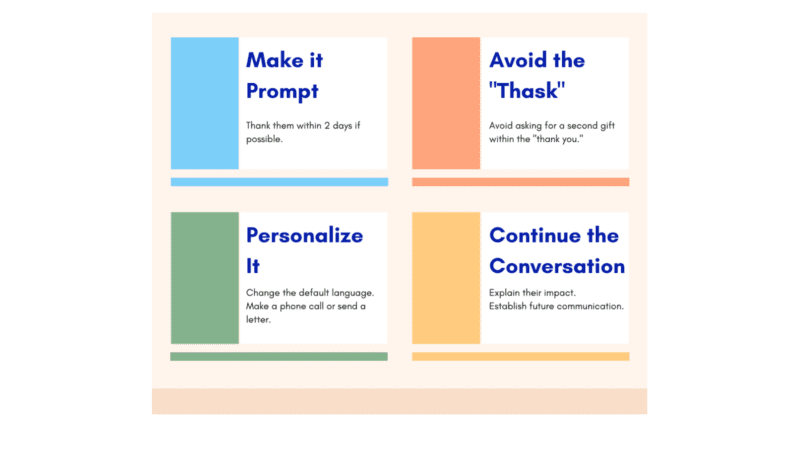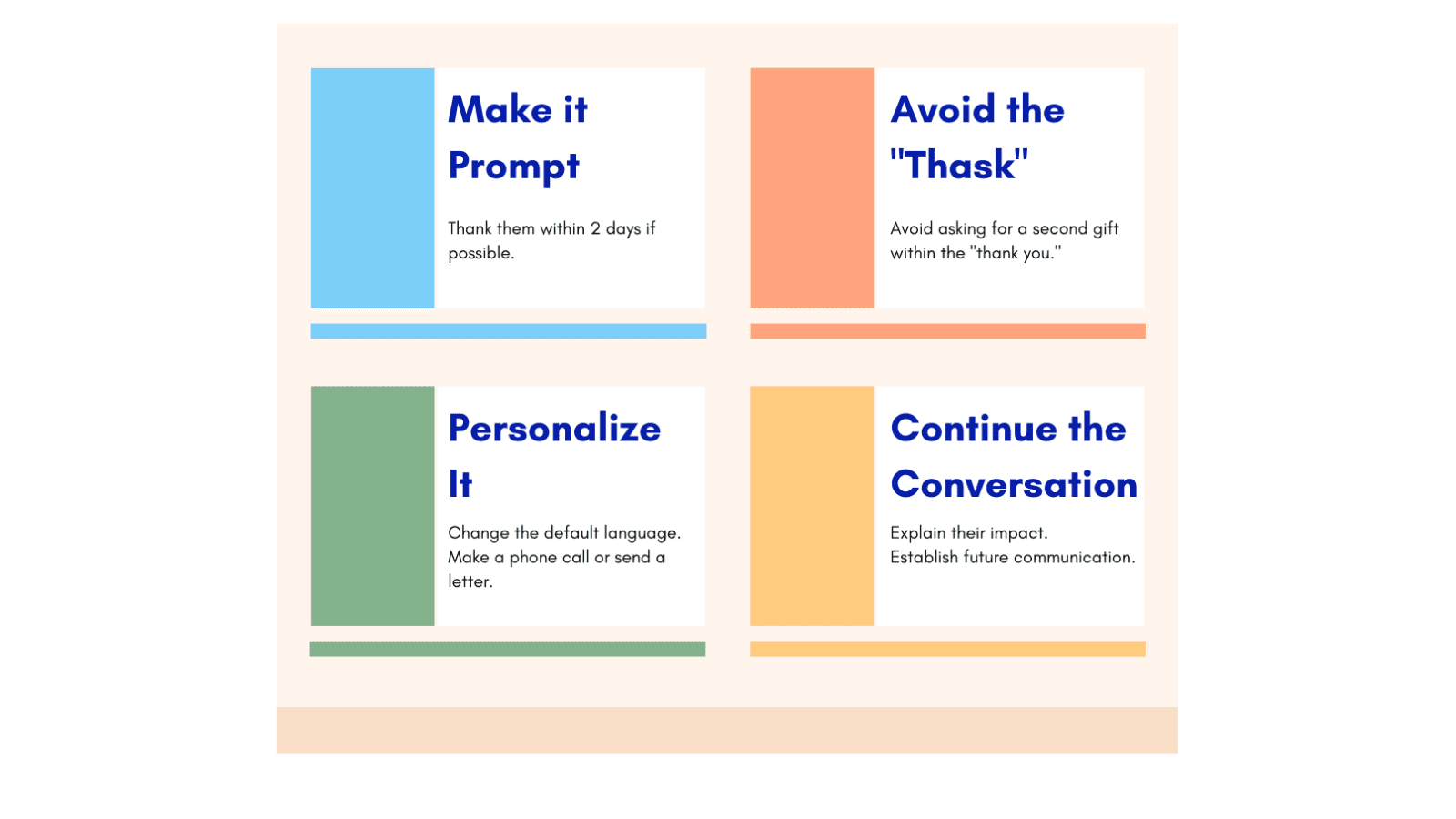 Make it prompt, preferably within two days of the gift. Send a "thank you" as soon as possible with every gift, regardless of the size of the donation. Nonprofit experts advise thanking donors within two days of their contribution or as soon as you can. 
Avoid the "thask," another ask disguised as a thank you. It's best not to ask for a second gift within the thank you letter. This contact should be dedicated to thanking the donor, solidifying their impact, and paving the way for future communication. 
Personalize the message. Be sure to change the default language. Nonprofit fundraising consultants agree that a phone call or mailed thank you letter is more meaningful than an email to thank your first-time donors. 
Continue the conversation. A common mistake in the initial "thank you" is closing the communication loop there. By not building relationships, you effectively end further communication. This leads to disengaged donors who are unlikely to make a second gift. Keep the conversation going between your nonprofit and your new donor. 
You can make your "thank you" message conversational by demonstrating the impact that their donation will make. This is an opportunity to partner with the new supporter by explaining how they have made a difference. It also leaves a lasting impression if you use specific examples of lives that have been impacted and explain how their donation continues to help those with similar needs. 
Invite them to receive your quarterly newsletter, sign up for monthly impact communications via email, and follow your organization on all social media platforms. 
See Get Fully Funded's video for a list of other common mistakes to avoid when thanking donors. 
2. Continue to share impact stories.
Storytelling is an essential aspect of donor engagement. By continuing to tell your story, you can keep your donors involved and wanting to see your organization's journey. If donors are not in a financial position to give again, they can at least experience fulfillment knowing that they have helped others. Being able to feel good about their contributions will increase the likelihood that they will donate again when their situation changes. 
In a 2019 Root Cause survey of 224 participants, it was reported that 75% of donors seek information about the nonprofit's continuous impact. This is clearly information that supporters want to see. 
How can you tell your story? Update donors through social media and newsletters.  You can post weekly updates about your organization's struggles, actions, and successes. These platforms give you the opportunity to be creative with how you share updates and engage with your audience. Also, this allows donors to see your impact in real-time. For best practice, use a combination of photos, video content, and text across social media platforms to keep your audience engaged. 
Send a quarterly donor newsletter addressing how supporters like them have made your mission possible. Share personal stories about the lives that have been impacted by your organization. This helps donors to understand the big picture of what your nonprofit is still doing and how large or small contributions all make a difference. Your donors will feel included and get the opportunity to be more involved in your mission. 
Be transparent. Don't be afraid to be transparent and vulnerable with your donors during challenging times, while also including small victories to let them know that your nonprofit is still making an impact with their help. For example, many nonprofits reported success when they shared difficulties with donors during the height of pandemic lockdowns. They spoke honestly about the struggles they faced and how the organization was working to overcome them. 
3. Offer donor accounts.
It is important to make this optional for donors rather than a requirement. Some supporters will appreciate saving their information in an account, while others may not have time to complete this step. This can remain an option for them to sign up later. 
Using donor accounts helps you streamline the process for donors to make recurring gifts, adjust preferences, and update their contact information. Donating should be as convenient as possible with saved payment information and options for adjustable autopay.
Additionally, you can give donors access to a yearly receipt summary within their accounts. They can also check additional boxes to modify communication preferences. 
4. Give supporters a platform to speak.
Two-sided conversations help build stronger relationships. As you will be sending communications to your donors, make sure you give them the opportunity to communicate with you as well. 
You can create this opportunity by offering surveys, simple methods for contacting your organization, and "Share your ideas" forms via email. Although you may not get many supporters providing feedback, they will appreciate being asked for their thoughts and having another way to contribute other than financially. 
5. Re-engage donors with events.
Invite your supporters to virtual and in-person events. There are numerous options for events that your donors can be invited to. 
For example, a pet rescue can invite donors to their adoption event to meet the amazing animals they've helped save with their contributions. You can also invite your supporters to watch live events virtually or in person, such as watching a rehabilitated turtle released at sea or the opening of a new children's park. 
By inviting supporters to events, you are acknowledging that you see them as part of this positive change. This shows donors that you value their partnership and see them as an integral part of your mission. Also, these invitations allow you to reach out to your supporters with good news and contact them when you are offering something rather than asking more of them. Share your wins with them!
6. Invest in donor management software.
Donor data is a powerful source of information for donor retention strategy. Donor management software helps you identify giving trends, donor decline, and effective outreach methods. You can also manage memberships and fundraising events, interacting regularly with your supporters. 
By tracking donor information, you'll gain insight into what is working and what needs improvement. Recognizing trends early also helps you avoid mistakes in your communication methods. For example, a low-open rate for email campaigns might indicate that your subject line needs tweaking. 
What features should you look for in this software? While the needs of every nonprofit differ, you'll likely benefit from these common donor management features:
Contact profiles 

Donor analytics

Fundraising tools

Email marketing 
Event-registration tools

Crowdfunding 

Communication reminders

Acknowledgment & receipting
For a quick list of Capterra's top ten-rated donor management software options, click here.

7. Strengthen your online presence.
To encourage continuous donor engagement, provide multiple channels to communicate with your supporters. You'll need to establish an effective digital strategy for keeping them engaged with your mission. 
Consider these key points that contribute to a consistent online presence: 
When donors visit your nonprofit website, you'll want their experience to be convenient. We recommend using a  straightforward web design with simple navigation, high contrast, and keyword optimization. 
Be sure to offer crowdfunding and peer-to-peer fundraising options on your donation page as well. If supporters can quickly find what they are looking for, they'll be more likely to tell their friends about your nonprofit's mission, give again, and even help out with fundraising. 
Additionally, using targeted keywords for your Google Ads will help increase your reach with your donor audience. By pursuing a Google Ads strategy backed by the Google Ad Grant, you can direct donors to informational pages about events and fundraising projects.
Keeping your blog active allows supporters to catch up on your nonprofit's latest activities and read more about your cause. Keep in mind that consistency is more important than frequency when posting. Donors are more likely to follow your blog if they know when to expect a new post.
Also, you can connect with your supporters by ensuring that you engage with them on social media. With an active social media presence, they'll see your nonprofit's impact in their feeds. Every time they see your organization, supporters will be reminded of their impact. This reminder is a way of reaffirming their decision to donate and encouraging them to stay involved. 
Nonprofits are up for the challenge
We recognize that donor retention can be time-consuming for nonprofit teams who may already be stretched thin. However, it may be helpful to look at this list and consider that every method is beneficial even if you can't consistently do them all. Also, these are likely things that your organization is already doing that could be more effective with consistency. For more information on nonprofit best practices, take a look at our blog.