The Power of the Microsoft for Social Impact Grant
Microsoft Ads For Social Impact Grant Drives 66% of Clicks for Beta Test Clients.
We tested the new Microsoft Ads for Social Impact Grant with 14 beta test clients for 2 months. 

We replicated the client's Google Grant ads and created 2 additional display ads In Microsoft Advertising for each of our beta test clients.

These 14 Microsoft accounts had a total of 151,360 clicks in 2 months.

The total number of clicks for combined Google and Microsoft Grant accounts was 227,188.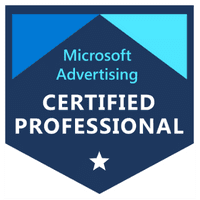 Our Grant Managers pass a certification exam for Search, Native & Display, and Shopping to demonstrate our understanding of the advertising ecosystem, including the Microsoft Advertising platform, solutions, and best practices in that area.
By passing all 3 certification exams, we are granted the Microsoft Advertising Certified Professional (MACP) status, which is the highest level of certification one can receive. Our certified status means that your account is being managed by experts in the field.
Schedule a Free Exploratory Call