Post written by
OneCause
, who is committed to helping cause-driven organizations amplify their message and raise more funds with easy-to-use fundraising solutions. They offer a full suite of solutions that powers online giving, event management, mobile bidding, and peer-to-peer fundraising for nonprofit organizations of all sizes.
There are plenty of ways to raise money, but one of the most popular (and let's face it: fun!) ways to bring in fundraising dollars and engage supporters is the time-tested nonprofit fundraising event.
The key to meeting fundraising goals is donor engagement. So, the real question is: "How do nonprofits get and keep donors engaged for an event?"
Answer: Knowing your audience and targeting the right people to attend your fundraising event is the first step to donor engagement.
This means not only knowing the needs, passions, and motivations of your donors, but also matching them to the needs, program, and format of your event.
Knowing the audience you're trying to connect with also grounds yourself in your nonprofit's mission. This is especially important considering a recent finding from the OneCause Giving Experience Study:
"Social giving is on the rise, with 27% of U.S. adults donating to a mission-driven cause, meaning that the potential donor base for nonprofits is also growing."


But, how do you start the process of identifying the right audience for your nonprofit's event?
We're here to help guide you through the 4 tips to finding and tapping into the right audience:
Ask yourself why would donors want to attend.
Survey your current audience.
Design attendee personas.
Create a contact strategy.

Ask yourself why donors would want to attend.
To find the right event and audience, it's important that you understand (and then align) both your donors' motivations and your fundraising goals.
Start by asking yourself a truly humbling question: "Why would someone want to attend my event?"
Be sure to put yourself in the shoes of your audience. They may want to:
Use whichever "why" you believe resonates most with your audience as well as your fundraising goals and let that guide the rest of this process, including the marketing materials promoting the event.
The more 'in sync' you are with your audience, the greater your fundraising success on event night!


Survey your current audience.
Before you look to target new donors to come to your event, it's a great idea to survey your current audience to connect the needs and motivations of those already attending, so you know what types of people to target to grow your donor base.
Surveys are a great way to collect a large amount of data about your donor base, and they don't tie up a lot of bandwidth. Not to mention, asking donors about their opinion shows you care, which is a great starting point for any relationship.
As you start this process, make sure to:
Identify core areas of engagement (could include donors, volunteers, etc).
Determine key characteristics (using fundraising software or CRM).
Send a survey of your own.
A few tips for conducting surveys:
Keep your surveys short, 5-6 minutes max.
If you're surveying frequently—and you should—focus on one topic at a time.
Make your supporters feel heard by communicating on any actionable feedback they have.
There are a lot of tools out there that make it easy to get started with surveys. Here are a few of our favorites:
SurveyMonkey – It's probably the most popular and well known survey provider. SurveyMonkey allows you to build free surveys up to 10 questions, and embed them on your website. They also have great reporting!
TypeForm – This survey provider that has similar features to Survey Monkey, and provides a Freemium model. TypeForm integrates well with services like Google Sheets and MailChimp, so you could use it to build reports or automated marketing campaigns.
Google Survey – They charge 10 cents per survey completed. But, the surveys are easy to create and really simple to embed on your website.
Your CRM – Many CRM's have a way to create web-to-lead forms which can be used to take surveys or add data to a CRM user profile.
The results from your surveys will help you discern audiences or persona types that can be grouped by their motivations, behaviors, and event type preference. (Example: Have a donor base that chose 'text messaging' as their primary communication preference? Try a text-to-donate blitz event!)
They also collect the data needed as you look to create nonprofit attendee personas!
Design attendee personas.
For a truly comprehensive approach, try identifying your donors and creating specific personas to help target specific audience segments.
Nonprofit event personas are semi-fictional "donor types" who represent your ideal constituent. Most organizations have multiple personas to more effectively tailor their communications.
Gone are the days of a one-size-fits-all approach to relationship building. We need to understand who we are talking to in order to be successful at delivering the right message to the right audience at the right time using the right marketing channel.
Start by listing important characteristics to consider in creating personas:
Age
Location
Occupation
Engagement history
Interests
Blockers to involvement
Giving Channel (email, website, fundraising software, event, text)
From there, using your survey data, create a profile for each type of supporter in your donor base. Check out these examples of a 'Gala' and 'Peer-to-Peer' personas: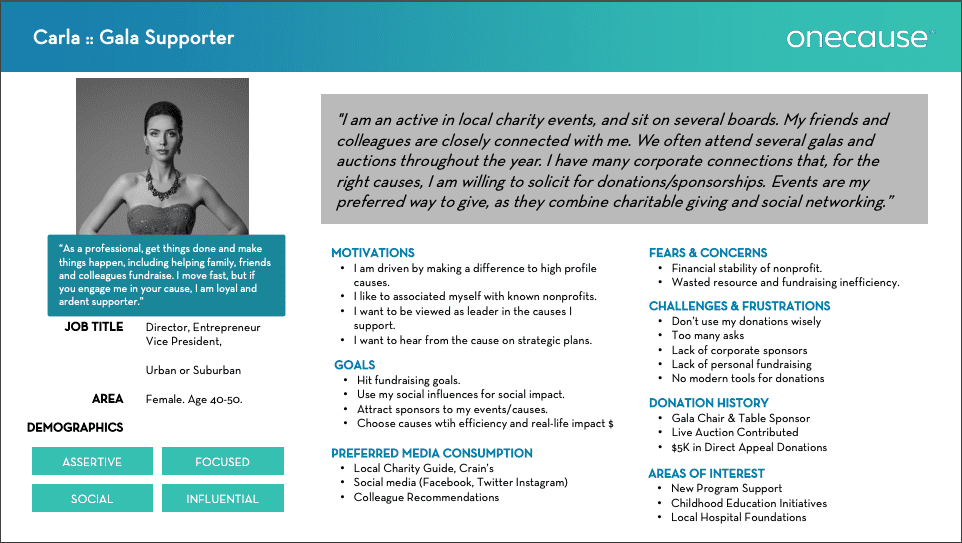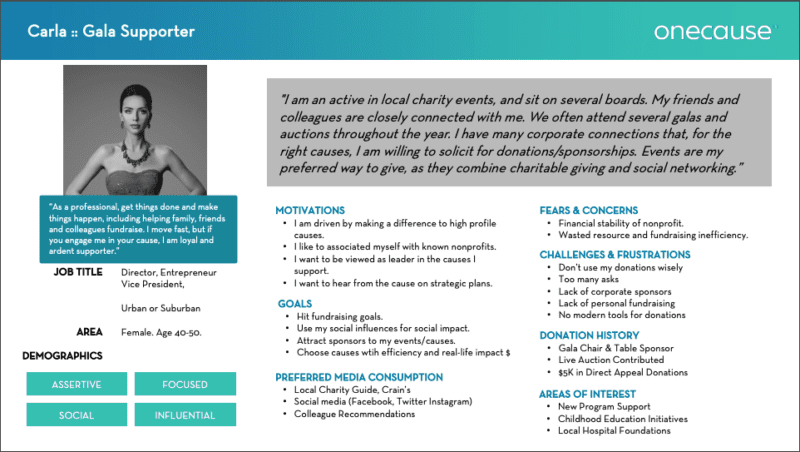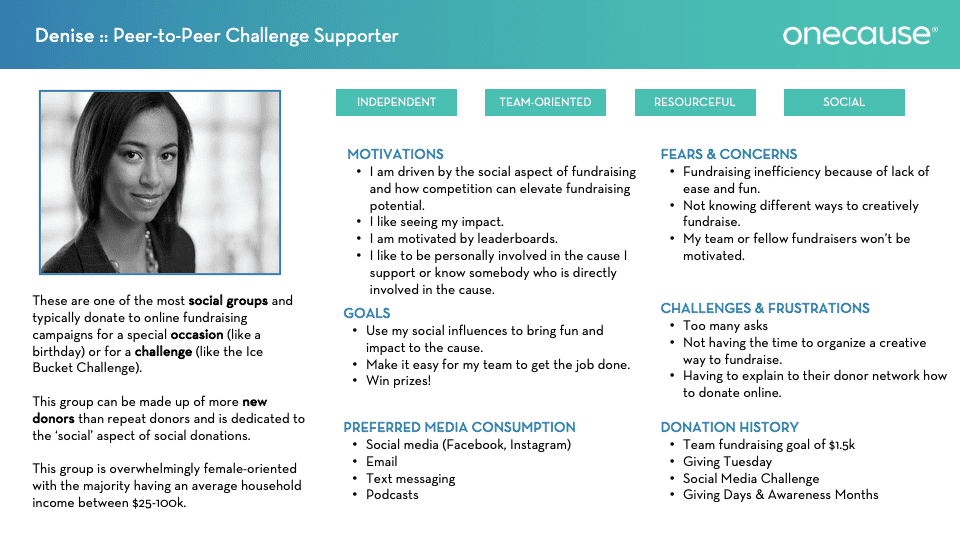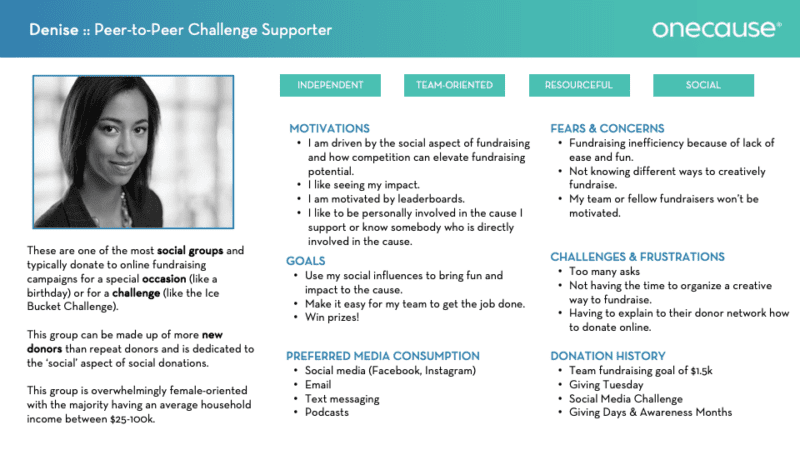 This exercise can be invaluable for future events and campaigns, as you can continually refine your personas over time as you conduct additional fundraising campaigns and build better messaging and campaign strategies.

Create an outreach strategy.
Once you know your target audience for your event, it's time to consider how to best engage this audience.
Follow these 6 best practices to promote your event to your target audience:
Inform Supporters. Give them the dates of your event or campaign and tell them about the goals you hope to achieve. Don't forget to tell them how you plan to use the proceeds. Sharing impact is important in the fundraising world!
Explain How To Participate. Some of your supporters might not have done online fundraising before, so you'll need to explain how to participate. If you are simply taking your mobile bidding online, let people know it's the same site and software they would use for you onsite auction.
Share The Link To Your Fundraising Site. Your online fundraising site will serve as your fundraising headquarters for in-person donors and online donors alike. Share the link with supporters so they can start bidding and donating!
Leverage Ambassadors. Think about your most loyal supporters, volunteers, donors and staff and make them Ambassadors. Tap them to help you spread the word far and wide about your event.
Blast On Social Media. Social is your best friend! Create a social media plan to promote, engage, and excite supporters. Be sure to embed mission messaging, impact statements, and the "why it's important" in your populated posts on your fundraising software to connect with supporters.
Reach Out To Partners. Be sure to make full use of your nonprofit's network of partners and sponsors.
Most importantly, execute the above 6 best practices in a multi-channel approach. Different channels could include:
Email
Phone call
Text message
Direct Mail


With the right donor management platform and social fundraising platform, it's easy to find and recruit supporters to your fundraising campaign. Watch as new contacts and donations start coming in just by targeting the right audience and executing an effective communications plan.
No one said planning an event fundraiser was easy, but with the right strategies and target audience, you can execute an event that's memorable, profitable, and a whole lot of fun for donors.
Designing a specific plan for identifying the right audience can help nonprofits continue to cultivate stronger relationships with supporters and ensure outreach efforts are as strategic as possible.
These 4 tips will give you a kickstart to getting the right donors in the door to engage with your event and support your cause.
About the Author:
Karrie Wozniak has spent more than a decade bringing innovative technology and fundraising strategies to the nonprofit industry. As one of the first executives at OneCause, Karrie combines her 20 years of experience in marketing with her passion for helping nonprofits expand their reach, leading industry research, marketing strategy, and fundraising consulting initiatives. She is also an active speaker on donor and fundraising trends, and has been featured on Forbes.com, Philanthropy Journal, and Nonprofit Hub.