And What It Means
The internet is teeming with websites, advertisements and social media sites. As of January 2020, there were over 1.74 billion websites, and Google processed 5.1 billion searches per day!
To say it's a challenge to attract people to your site is an understatement, especially when you consider the brief amount of time an average person spends on a website. Estimates vary, but some experts say you have 15 seconds or less to capture a visitor's attention. There are several reasons people leave websites, but less than stellar content is one of those reasons. So, unless your content is extraordinarily clear and focused, only a minimum of it will get through to visitors. 
It's always a good idea to have high-quality content, but it's mandatory if you want to earn the attention of search engines for a higher ranking. And what organization doesn't want that? That goes for all search engines, but with more than 92 percent of the market share, Google dominates and considers high-quality content at the top of the 200 SEO factors it uses in determining search rankings. 
It's All About the User Experience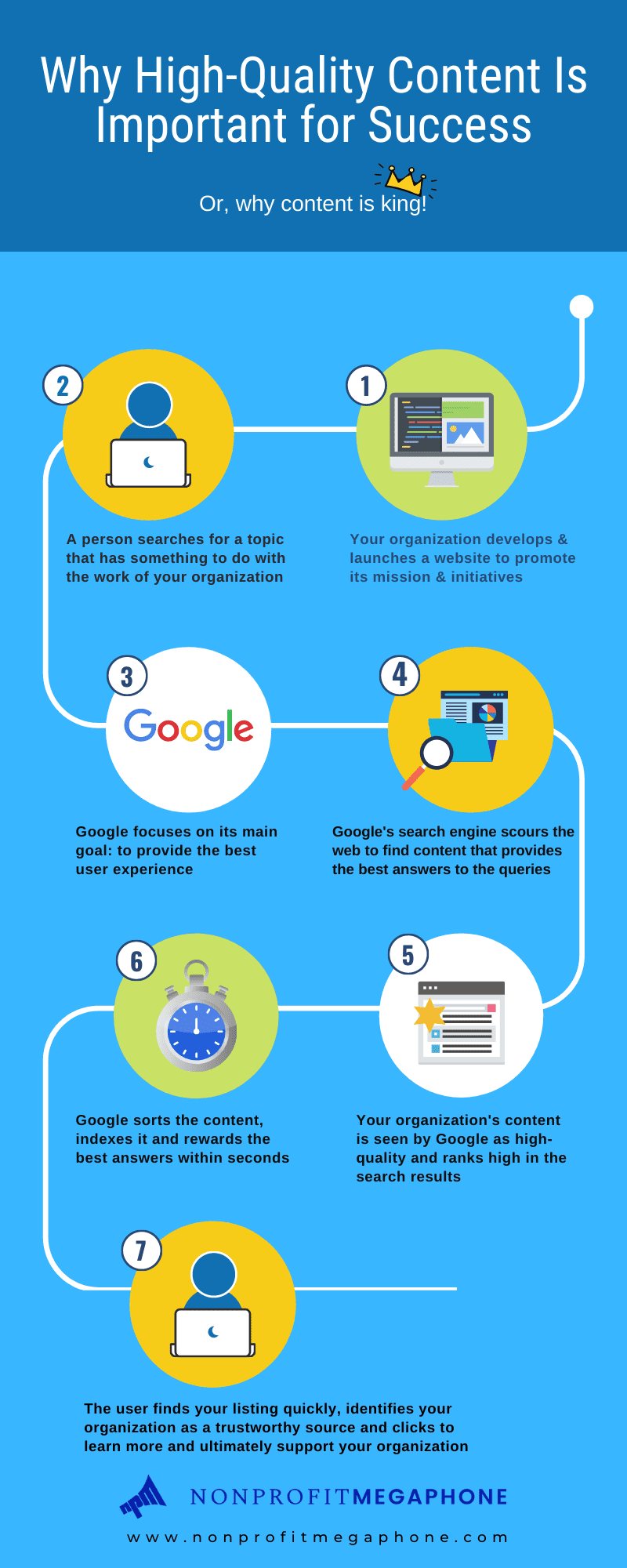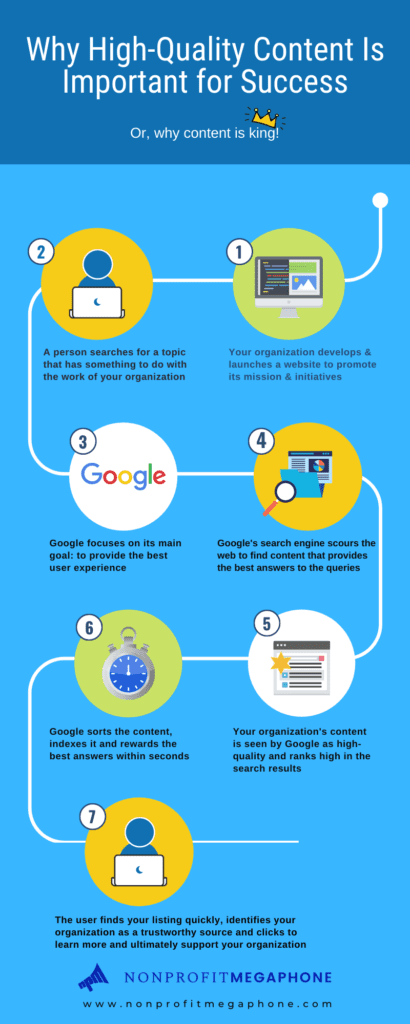 Creating high-quality content is an essential element of an effective content strategy. We've said it before, but it's worth repeating. Google is focused on providing a positive user experience, which means answering user questions with the best possible answers. Users want content that is relevant, helpful and timely—and that's what Google rewards with higher search engine rankings. If your content satisfies the user's questions, they'll spend more time on your site and the more time users spend on a web page, the more likely Google will reward that page with more organic (unpaid) traffic. At the same time, high-quality content also becomes perfect landing pages for the Google Ad Grant, giving you twice the benefit. 
What Is High-Quality Content? 
High-quality content must be well researched and follow a logical structure that makes it easy to navigate and read. It should be comprehensive and rich enough to answer all the questions posed by a user and address closely-related questions.
Informative and quality articles are the best type of content to grow a website's popularity. Online consumers are quick to detect and ignore web pages or blog articles that are too sales-like. In one study, 71% of readers say they were turned off by content that seems like a sales pitch.
Many people think only about blogs as content. While there are many other types of content, blogs are very effective in traffic and search engine indexing. Statistics estimate that organizations that publish blogs get 55 percent more traffic and have 434 percent more pages indexed by search engines. 
People want educational content delivered to them in easy-to-digest forms, such as blog posts, videos, podcasts, infographics, etc.
Publishing high-quality content consistently will keep your website active and fresh in the eyes of Google and its ranking algorithm.
Put it all together, and it's clear that high-quality content has a lot to do with your online success—more traffic, more clicks, more pages indexed—what's not to like? As the leader in Google Grant management for nonprofit organizations, Nonprofit Megaphone understands how valuable high-quality content is, which is why we offer professional SEO content writing services to create blog posts and landing page content. Let us know how we can help you. We love to help nonprofit organizations succeed!