Make Sure You Respond to this Timely Request
Google has launched a new verification program designed to ensure users have a safe and trustworthy experience on your site.
If you haven't received a "verify your identity" email from Google yet, you will sooner or later, so please be on the lookout.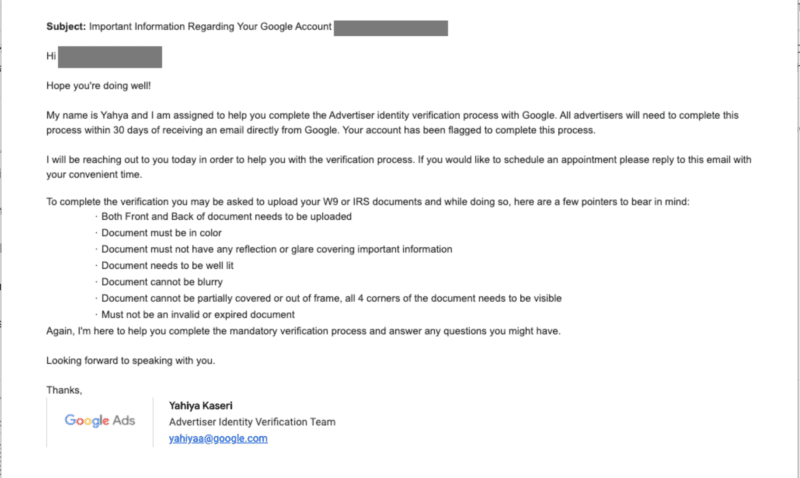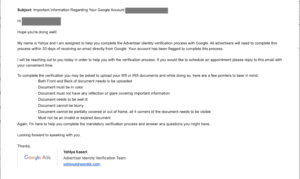 If you are unsure of the email or have questions, feel free to forward the email to your Nonprofit Megaphone Grant Manager or Client Happiness Manager, and they will be happy to review and confirm it. There are a few different types of verification programs:
Advertiser Identity
Advertisers will be required to verify their legal name through advertiser identity verification to increase transparency for users. Google will verify your identity and generate a disclosure on any ads you run, displaying your name and country. Details about transparency and ad disclosures are available here.
As part of a phased rollout, certain advertisers may be selected to complete this verification program first. Those who meet one of the below example criteria may be prioritized as Google expands this requirement across its Ad network:
Promotion of products, goods, and services.

 Examples: Retail, media and entertainment, travel, B2B, technology, etc.
Promotion of informational, advisory, or educational content.

 Examples: Content promoting educational resources, research and statistics, free health or financial advice, charitable or social causes, etc.
Promotion of content related to regulated industries.

Examples: Gambling and games, financial products or services, healthcare products or services, etc.
Advertisers who are required to complete advertiser identity verification will be notified via email and given 30 days to submit documentation. Once you submit your documentation, you must complete the program within 30 days, or your ads will stop serving. Multiple failed attempts to complete the verification program will result in your ads not serving.
After completing the advertiser identity, your ads will contain a disclosure using the information provided during the verification program. This means that your name, or the name of the organization or business you represent, and country will be displayed in a disclosure that is automatically generated by Google. 
Business Operations
You may also be asked to verify information regarding your business operations. This may include details about your business, such as your business model, business registration information, types of services you offer, business practices, and relationships with advertised brands or third parties, if applicable.
This may be requested if, for example, the advertising behavior has been identified as unclear or the ad content is deemed as potentially misleading. Google wants to ensure that users understand who is providing the advertised products or services on Google ads.
Advertisers who are required to complete business operations verification will be notified and given 30 days to submit the verification form. Once the verification form is completed and reviewed by Google, advertisers that do not meet the requirements of this verification program outlined below will not be able to serve any ads.
Restricted Content
Legitimate advertisers that want to promote content associated with certain regulated industries, such as gambling and games, healthcare and medicines and financial products or services may be required to complete the  verification program to prove you meet local licensing requirements. You may also have to complete additional identity checks.
Google continually reviews its ad policies in light of industry changes and abuse trends, and may introduce new verification requirements for certain content.
Ad Formats and Features
To ensure quality ads, Google may require advertisers to complete additional verification to access advanced ad formats and features of Google Ads, such as HTML5 ads and Local Services ads. Google reviews all of its ad formats for policy violations and abuse and may introduce new verification requirements to access certain ad formats.
Contact us any time if you have any questions about this new process. We're happy to answer any questions you have about it and help in any way. We're available to help with any questions about the Google Ad Grant. We love to help our clients succeed!